The Home County Candle Co. Christmas Gift Guide 2018
If, like us, Christmas still seems a million miles away and you haven't so much as written your list yet (let alone checked it twice!), don't panic, we've got you all wrapped up (quite literally)! Beat the manic crowds of shoppers storming through chaotic shopping centres, put your slippered feet up and delve into our 2018 Christmas Gift Guide…
Why candles make the perfect gift
Now of course we think scented candles make the perfect Christmas gift, but don't just take our word for it - here are 3 reasons candles are the ultimate stocking filler:
1. "There are few things more widely well-received than a chic, well-crafted candle." Forbes. Therefore, no matter who it is you're buying for, you can guarantee the recipient will appreciate your thoughtful gift.
2. They add a personal touch. Scents have an extraordinary way of transporting people back to times and places, and evoking the most powerful of memories. Therefore, to be able to give somebody a gift which not only smells and looks great, but also has the power to remind them of home, is in itself a triumph.
3. They can be enjoyed for weeks and months to come. Even when Christmas has become a distant memory and all the turkey and Toblerone has been demolished, with a burn time of 45-50 hours your Home County Candle will still be burning away, filling your recipient's home with joy.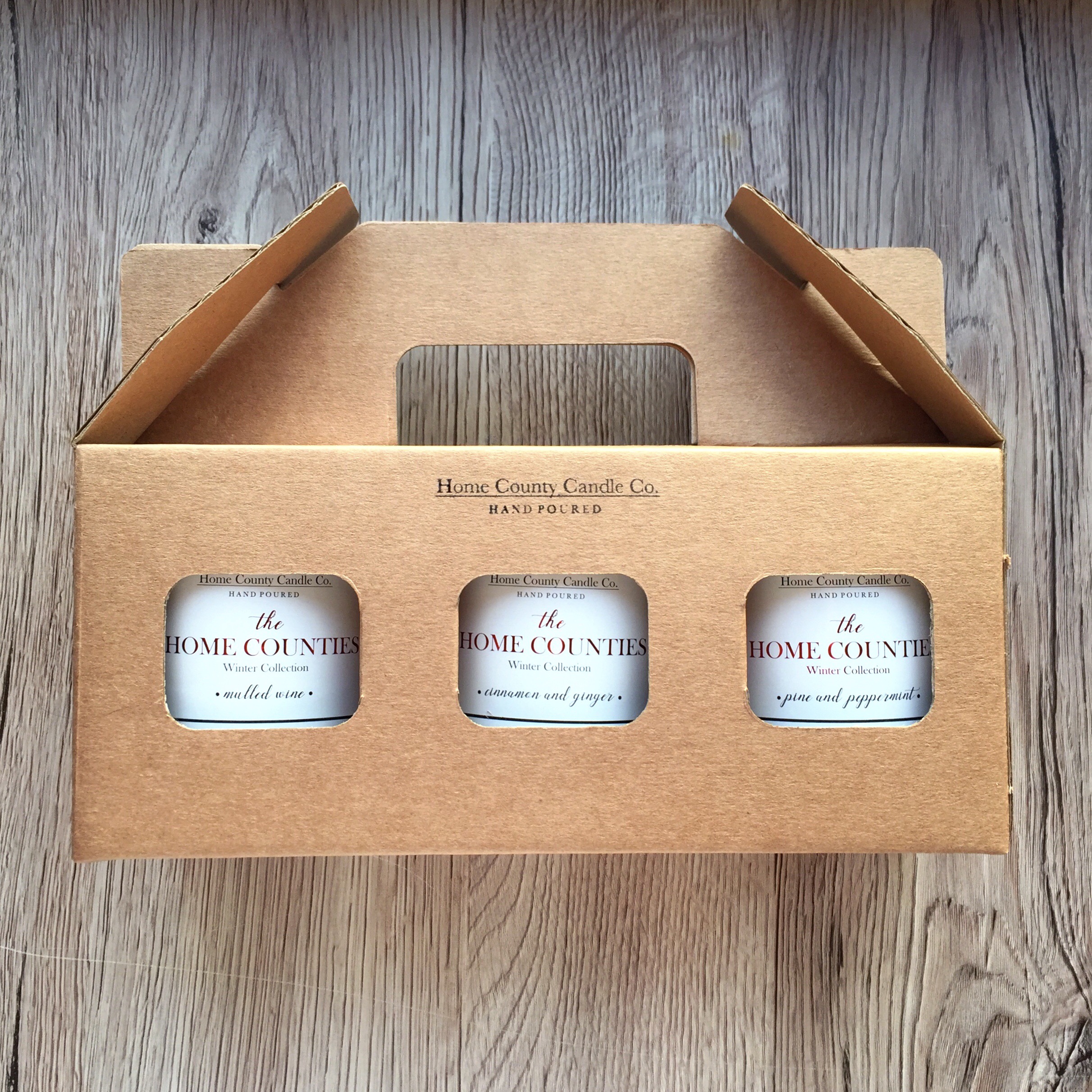 our 3 top picks this december
1. Candle Trio Gift Sets - According to 'The Gift Box' "if you're unsure which fragranced candle is best to give, why not choose a gift set with various scents included? This takes away all the worry of not selecting someone's favourite fragrance." Not only that, our Candle Trio Gift sets are also a great way of taking your recipient down memory lane ("remember when you grew up in Bucks, moved to Herts and holidayed in Yorkshire"). It also helps that they come beautifully packaged in a lovely little hand-stamped gift box - so hardly any wrapping required!
2. Candle & Diffuser Gift Sets - If you really want your gift to last, the addition of one of our reed diffusers is perfect! With our candle and diffuser gift sets you can once again mix and match your scents, and the diffuser will last around 4-5 months!
3. 3 Wick Candles - We all have that one candle-mad friend who goes through candles like hotcakes (guilty!). Our 3-wick candles, with a burn time of around 80-85 hours are the perfect gift for the candle lover in your life this Christmas (and will also make fantastic Christmas table centerpieces)!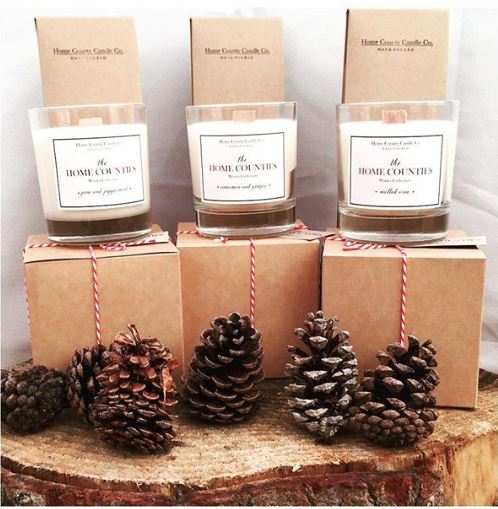 home county candle co. winter collection
Can't decide which scent to go for? Know somebody who can't resist Christmas candles? Here's a breakdown of our 3 delicious Christmas scented candles:
1. Cinnamon & Ginger Candle - Christmas in a candle! Perfect for lovers of sweet cinnamon scents, with warmth of the wood fire embodied through spices such as Cinnamon, Ginger, Thyme and Nutmeg.
2. Mulled Wine Candle - A fruitier Christmas scent bursting with warm wine and sweet berries, the perfect Christmas gift for one of the girls!
3. Pine & Peppermint Candle - A fresher, more woody Christmas candle featuring a captivating blend of eucalyptus, juniper and hints of peppermint.
We've absolutely loved meeting lots of you at our November Christmas shows, and hope to see some of you at our upcoming markets:
- Hampton Court Palace Festive Fayre - 7th-9th Dec. - 'Enjoy a big helping of festive spirit as Hampton Court Palace Festive Fayre returns to the magical Hampton Court Palace this winter. From 7 - 9 December, the palace courtyards will be transformed into a stunning festive food lover's wonderland.'
- St Albans Christmas Market - 11th-22nd Dec. - 'For the first time this year, the St Albans Christmas Market is being hosted within Meraki Christmas Festival, so not only will you be able to shop for unique hand-made goods from picturesque wooden chalets, you'll also be able to enjoy all the fun of a winter wonderland with rides, a spectacular virtual reality Santa's grotto experience, Christmas movies, skating, an ice bar and much, much more.'
After a crazy few months, and what will have been our first Christmas in business, our festive plans will include lots of family time, food and frivolity (as well as catching up on sleep of course!). Whatever it is you get up to over the next few crazy weeks, we hope you have a very Merry Christmas and a Happy New Year!