Our first year in business
We're one! Exactly one year ago today we launched the Home County Candle Co. website with Bedfordshire, Hertfordshire and Buckinghamshire candles, having no idea where it would go. A year on and whilst we still have no real idea where it could go we've had the best year of our lives doing something we absolutely love together. We thought a year on it would be the perfect time to reflect on our first year in business (I promise to keep this brief!)
Without wanting to make this a sob story last January was quite a difficult time for us. Oli was in-between jobs and things were pretty tight. We decided that, whilst we were spending more time at home, we wanted to do something productive and learn a new skill together. We ordered a candle-making kit online and spent a whole weekend practicing - we loved it!
That Sunday whilst we were walking our favourite canal route waiting for our candles to set we had a little joke about where was better, Bedfordshire where Oli had grown up or Buckinghamshire where I'd grown up. We met in the middle and decided on Hertfordshire, where we live now. With candles on the brain we had that 'eureka' moment imagining what each county's candle would smell like.
Ever since that moment we've literally been obsessed. Our little idea has consumed almost every minute of our lives since then and we often joke that our candles are our children. We've had some ups and downs but we wouldn't change our first year for the world!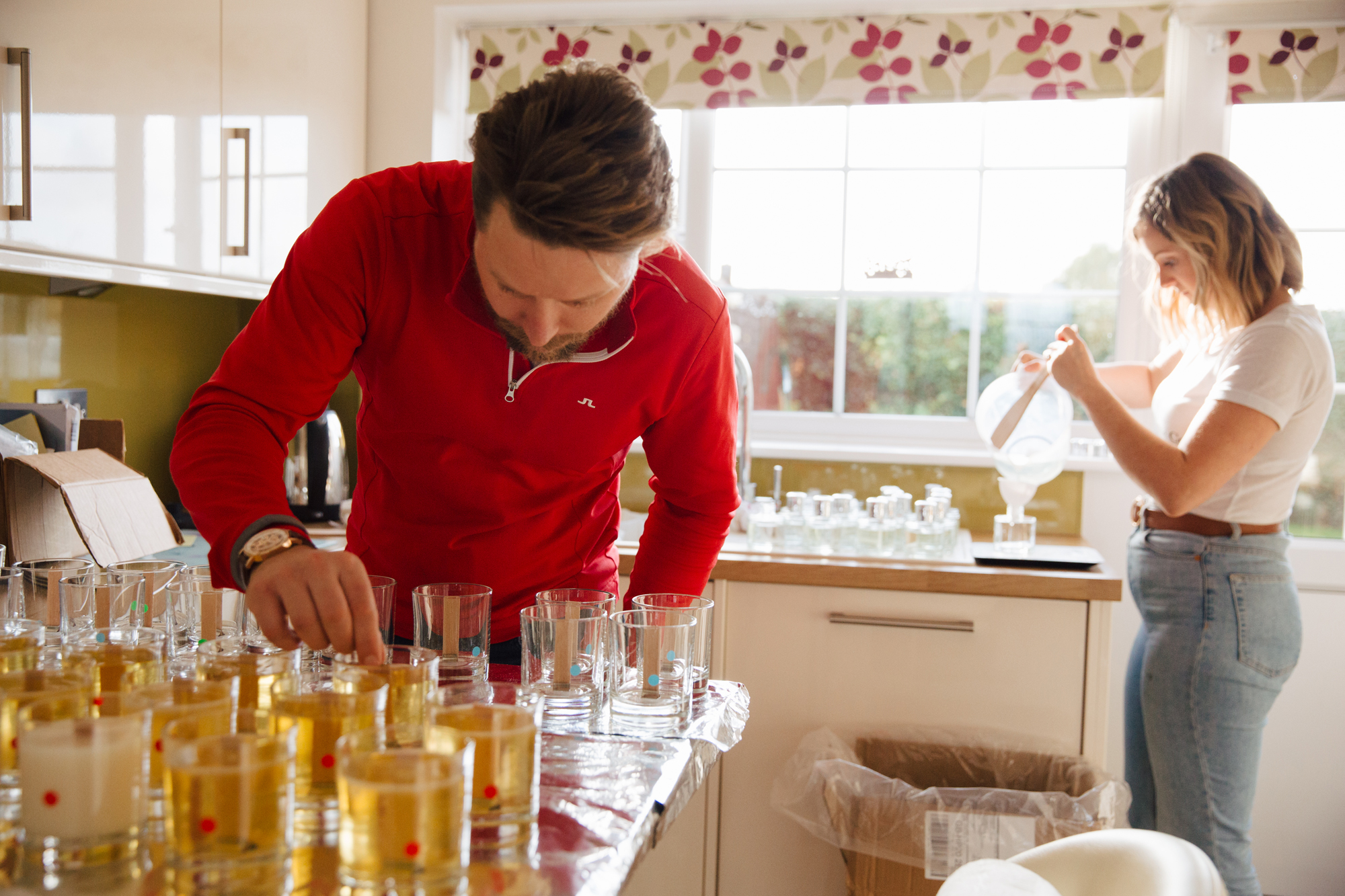 3 things we've learnt during our first year in business
1. Running a business together is HARD…
Back when Oli and I worked together we made a good team and naively thought starting a business together would be an absolute breeze. Believe me when I say it is not for the faint-hearted! Oli will agree with me that there have been times when we have wanted to kill each other over the most menial of things, like whether we should have the window open or closed whilst the candles are setting, or how much tin foil to put down - should we even put tin foil down at all?! I'd like to think though that it's only hard because we're both so incredibly passionate. We've learnt that we ultimately want the same thing, and we're learning to sleep on decisions and find a middle ground in the morning.
2. Enjoyment is key…
Whilst we always knew we wanted to run a business together at some point we seemed to fall into candle making naturally and it was born out of something we enjoyed doing together. We're both absolutely positive that we'd never have survived our first year if we weren't doing something we love. The late nights are hard and we both get tired but spending our evenings and weekends making candles, or doing shows never feels like a sacrifice for either or us. If it did one, or both of us, would have for sure given up by now!
3. Never stop learning…
We've both become absolute geeks about candles, reed diffusers, scents, business, anything we can get our hands on! We want to learn from every mistake we make, every person we meet and every event we attend. We sometimes joke that we wonder if we'll ever be totally happy with our product range, our packaging, our stand builds and so on, but we both think it's important to constantly improve, even if it's just little tweaks here and there. We don't ever want to get complacent and so we always listen to feedback, good or bad and try and improve wherever we possibly can.
3 stand out moments of our first year in business
1. Our first stockist…
On the same day we launched our website we popped into The Market House in Tring with the first batch of our little candle babies. I was full of nerves but Oli was like a proud Dad ready to show the world his brood. Suzanne and David totally got the concept and placed their first order the next day. This was a huge confidence boost for us, knowing that our products were fit for a shop a beautiful as The Market House definitely set us on the right path for our first year. We can't thank Suzanne and David enough, they've been hugely supportive throughout the year (as have all of our lovely stockists) and gave us our first new-stockist-happy-dance!
2. Making it through Christmas alive…
After our first ever show (Herts County Show in May) we knew the way to make our first year a success would be to spread the word as much as possible and meet as many local people as we could. We booked a few fantastic summer shows and decided we'd book a different Christmas show every weekend from 1st November - 22nd December. Both working full time then as well as running the business it was touch and go whether we'd make it - but we did! Oli left his job to give the business his full attention and with lots of long days, even longer nights and Christmas spirit we made it out the other side.
3. Our #SBS win…
I've written about our SBS win recently (you can read all about it here) but having the belief of someone like Theo Paphitis is a huge deal to us. Getting that retweet and attending the SBS event this month has spurred us on an unbelievable amount, we can't wait to see where the SBS network will take us!
So that was a whistle-stop tour of our first year! There are so many people we couldn't have made it through this year without - so to all of our family, friends, stockists, customers and people we've met along the way THANK YOU! As a small business you have no idea how much your like, comment, share, purchase, feedback and support helps. Who knows what the next year holds for us - fingers crossed for more of the same!