Dacorum's Den Winners 2019!
For those of you we haven't chewed the ear off about Dacorum's Den, we thought we'd let you in on our big news…
Back in May, whilst we were sunning ourselves on the Amalfi Coast, my Mum and Sister were approached at the Herts County Show by a representative of Dacorum Borough Council. Mum being the chatty, proud Mum she is, they got talking about the business and we were introduced to a local initiative for Dacorum Borough small businesses called Dacorum's Den.
"Organised by Dacorum Borough Council and supported by local sponsors, Dacorum's Den is our business grant scheme, based on the popular TV show, which gives budding local entrepreneurs the chance to apply for up to £1,000 to grow and develop a business idea. Since it was launched in 2011, over £80,000 has been invested in business growth." Dacorum Borough Council.
Applications closed the week we returned from holiday, so we got stuck straight in the second we got home - the prospect of a £1,000 grant seemed too good to be true! The support we received from various members of the Dacorum Borough Council team in the run up to our pitch was absolutely invaluable - they took the time to meet with us, go through our application, give us pointers on our presentation and most importantly put us at ease about the prospect of pitching our business to 5 important local business people.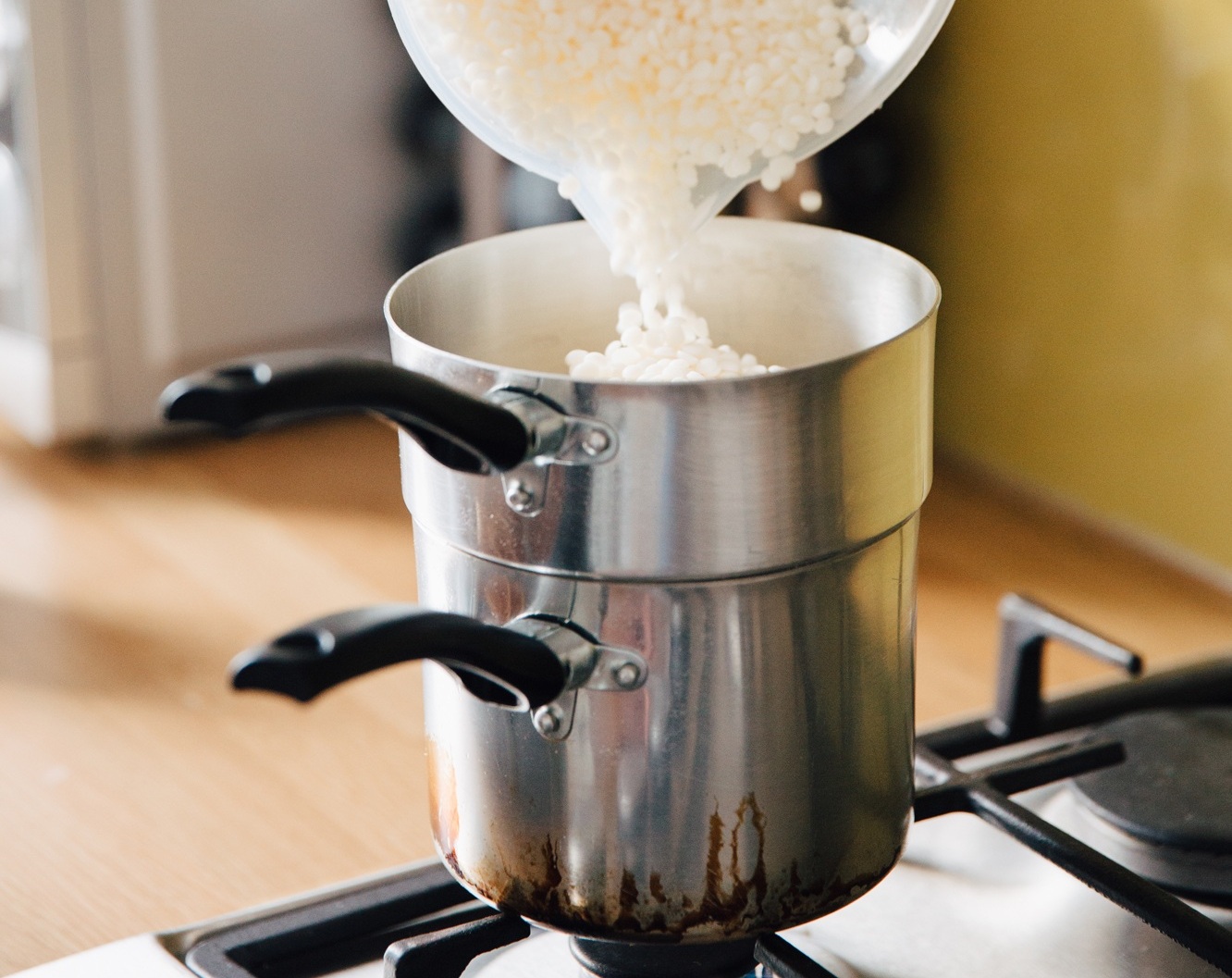 Dacorum's Den allows you to pitch for £1,000 to help your business in any way you see fit. We knew immediately what we would do with £1,000 - an iMelt 90 wax melting machine has been on our wish list for as long as we can remember.
Without boring you (too much) with the details, for the last 18 months we've used the same small saucepan to melt the wax for every single candle we've poured to date. We can melt enough wax for 5 candles at a time, meaning we can pour a maximum of around 100 candles per day. The iMelt 90 machine would allow us to melt enough wax for 465 candles at a time, meaning we could potentially pour 930 candles a day - an increase of over 800%!
As well as clearly making our lives so much easier, increased production would also allow Oli at least an extra two days out of the studio a week, which he could spend prospecting for new business, meeting with potential stockists and generally getting ahead for the impending 'candle season'.
Having made it through the initial application stage we were invited along to pitch our business to 5 members of the local business community, led by Hemel Hempstead MP Sir Mike Penning. Unfortunately pitch day clashed with the first day of the Kent County Show, so Oli was unable to pitch with me - cue double the nerves!
Whilst I'm fairly confident presenting, I have always felt a degree of nerves when pitching in the past, and I'd never had to pitch alone before, so I assumed I'd crumble. However, the staff who greeted me on the day, and the judges when I walked into the room, couldn't have made me feel more welcome and at ease. I found that when I was talking about our business I wasn't really pitching at all - it felt very natural, and anyone who knows me will know how difficult it is to shut me up when I get talking about candles!
Just like that the 10 minutes was up and it was time for the bit I'd been dreading - the questions! The judges hadn't given much away whilst I'd been talking so I wasn't sure what to expect, but I was pleasantly surprised. They asked incredibly insightful questions, gave sound advice and complimented us on not only our business but the samples and collateral I'd taken along with me - in fact Sir Mike Penning even recognised our Hertfordshire candle as he has one in his house!
I left for the Kent County Show with my head held high, knowing I couldn't have done more, but still not sure if I'd done enough to secure the grant.
At around 4pm that same day Oli did a Simon Cowell on me:
"Han I've just had a phone call from the Dacorum's Den people - we didn't get the £1,000…they gave us £1,500 instead!"
There has been lots about running the business that has made us feel proud, but that moment was probably our proudest (and most relieved) moment to date. To know that we are now able to go ahead and place the order for the machine that will make a huge difference to our day-to-day lives is such a relief, and we can't wait for it to arrive!
Last Friday 19th July I was lucky enough to take my Mum along to the Dacorum's Den awards event at Little Hay Golf Complex. Again, we were made to feel so welcome and enjoyed some Bucks Fizz and a delicious afternoon tea. Each of the six Dacorum's Den winners were introduced individually by MP Sir Mike Penning, who without notes or prompts remembered in-depth speeches about each of the businesses - showing he really had bought into each of our proposals.
It was fantastic to see each of the judges again, as well as meet the other winners - details of which can be found here.
"The Home County Candle Co - awarded £1,500
This luxury home fragrance brand features a range of hand-poured, beautifully scented soy candles and reed diffusers. Inspired by the Home County it is named after, each collection has its own unique fragrance - for example, the Hertfordshire range is scented with woodland bluebells and jasmine. Using the grant to purchase a specialised wax melter will increase manufacturing capabilities by 800 per cent."
Now while we wait for our iMelt 90 to arrive, it's time to try and find a frame big enough for our awesome cheque!
Thank you to everybody at Dacorum Borough Council, as well as the Dacorum's Den judges and sponsors - we can't wait to grow our business with your help.